Dallas, TX — The National Rifle Association might not be able to hide from their problems in Texas, if one Wichita, KS judge has anything to say about it.
Kansas's Sedgwick County district court judge, Phil Journey, has asked a federal court in Texas to assign an "independent examiner" into the NRA's top leadership — including Wayne LaPierre — and their out of control spending.
Specifically, did the longtime CEO and his friends enrich themselves and a few friends off the donations of unsuspecting gun owners — and work to conceal that fact from unsuspecting board members.
Journey is a former Kansas Senator, but also a longtime board member of the NRA.  He is not some far-left liberal judge that the NRA can claim is trying to destroy the organization because they hate the Second Amendment.
Kansas.com reports:
Lawyers representing Judge Phil Journey filed the motion on Monday in the Dallas federal bankruptcy court, where the NRA is trying to stave off a lawsuit by New York state that seeks to dissolve the organization.

Journey, a former Kansas state senator and longtime advocate for gun rights, is the first NRA board member to officially question the management practices of Wayne LaPierre, who has served as executive vice president — essentially the CEO of the NRA — for the past 30 years.

"The hope (of appointing an independent investigator) is to either confirm or deny the allegations swirling around the association," Journey said Monday.
Meanwhile, back in Kansas, Judge Journey's filing agrees with the New York Attorney General's claims in her suit:
Journey said the evidence indicates "The Debtors (the NRA) have improperly paid excessive compensation to current management in base salaries, and, perhaps more troubling, via a series of excessive perks that were wholly for the Debtors' insiders' personal benefit.

"The Debtors' insiders received this hidden compensation for items via direct payment of purely personal costs. This includes the Debtors paying for purely personal travel costs for private chartered airplane trips for the Debtors' insiders and extended family members and friends."

Journey's filing claims that NRA management has kept the organization's board in the dark while maneuvering to protect key officials involved in the scandal.
LaPierre Has Run Loose — But Needs To Be Cut Loose
It's become clear to millions of gun owners that NRA's Chief Executive, Wayne LaPierre, has been circling the wagons to protect himself — and his personal cash cow — for years.
We reported how LaPierre used the organization's jet to shuttle his relatives around the country.  You can search this website for a half a dozen other instances of gross mismanagement of donor funds.
But as threats to their gun rights grow larger all around, gun owners aren't buying what LaPierreis selling, anymore.
The greed and waste are one thing.  But the NRA's open compromise on the bump stock ban, Red Flags, and more just can't be overlooked!
Gun owners haven't forgotten that the NRA supported both of those gun control ideas while Trump and his fellow Republicans controlled all three branches of the government — while there was no risk in opposing them!
After this story broke, the Military Arms Chanel — which boasts nearly 400K facebook followers — commented that if Judge Journey's request is granted, and a court examiner digs into the allegations against the NRA, it might just be the straw that break the camel's back.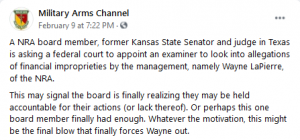 We can only hope so.
This Is NOT The Time For Weak Gun Groups
America's gun owners have no use for bloated, fat cats.  They don't want to pay for 105 foot yachts — as LaPierre was accused of cavorting on during his many all-expenses-paid luxury vacations in the Bahamas.
We need lean, mean, tough, brutal gun lobbyists.  Lobbyists who couldn't face themselves in the mirror if they couldn't prove that they had massively increased their donors' gun rights, what with having had decades to do it and a nearly limitless war chest.  A war chest continually refilled by bread-and-butter Americans who want to protect the Second Amendment!
After all, gun owners don't give a damn about a seat at the table.  They don't care if they're unpopular or aren't friends with all the other lobbyists in Washington, DC.
Gun owners want to win.  And the NRA isn't getting the job done.  Millions of gun owners have put their faith in these weak, corrupt men who were only in it for themselves.
We need a new national gun rights organization — one that is "No Compromise" AND that actually gets things done.  Our money is on the American Firearms Association, but either way, we don't have five to ten years for the NRA to try to become a lean, tough fighting machine again.