A bystander who wished to remain anonymous captured this photo of two suspects as they attempted to carjack a woman in south Minneapolis on Nov. 27, 2020.  Source: Star Tribune

Minneapolis, MN  — Play with fire and you'll end up burned.  That's the message that the City Council of Minneapolis seems to have missed since their city went up in flames over Memorial Day weekend.
This week, the uber-liberal Minneapolis Star Tribune had to admit that the number of 'violent carjackings' in the city is staggering.'  They detailed the rising problem on the streets of the city:
Over the past two months, Minneapolis police have logged more than 125 carjackings in the city, a troubling surge that authorities had largely linked to small groups of marauding teens. But an increasing number of adults have been arrested in recent weeks for the same crime.

Within a one-hour period Saturday morning, police reported three separate carjackings in southeast Minneapolis, including one where an elderly woman was struck on the head. Such attacks are up 537% this month when compared with last November.
Analysts have reported that Minneapolis has seen at least 375 carjackings this year — including 17 in just the last week. That total is over three times higher than in 2019.
The Police Department's spokesman, John Elder said, "The numbers are staggering.  It defies all civility and any shred of common human decency. You should be able to unload groceries out of your car without fear."
This same police department will have lost at least 100 officers by the end of the year.  Additionally, they know that nine members of their own city council had voted to not just defund but dismantle the Minneapolis Police Department.
How Is That Working Out?
Since the summer of pandering to the violent Black Lives Matter and Antifa mobs, the city has seen a tragic — if predictable — rise in violent carjackings.
One particular carjacking made headlines in early November involved the story of an older woman beaten to the ground by a group of 'teens.'
A 72-year-old woman stopped when she heard a teenager yell to her from a distance. Alarmed, she tried to shoo him away, but the teen and a friend rushed toward her, she said, grabbed her purse and beat her to the ground.

The boys fled down the alley, then abruptly turned back to steal her car, too.
The woman, who wished to stay anonymous for her own safety, supplied this picture to the local media.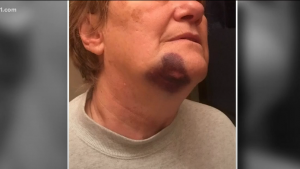 According to police, the suspects are often approaching innocent victims on the street, sidewalk or parking lot — often while they're distracted with routine tasks.
A significant number of the armed carjackings have targeted seniors and unaccompanied women at their vehicles on Minneapolis' South Side.  That's how criminals work: pick the people least likely to be able to put up a fight.
A Year Of Violent Crime
Minneapolis isn't just seeing surging numbers of 'teens' stealing cars. Violent crime is up almost without exception.
In November, the number of people shot in 2020 surpassed 500, the most in 15 years.   The city also saw seventy-nine homicides — the most since the mid-1990s,when the city earned the nickname "Murderapolis."
Police Chief Medaria Arradondo warned that the rise in crime wasn't limited to specific areas. "Crime is occurring, the shootings, the carjackings, the robberies. They are citywide, they are impacting everyone, and not just one constituency base and not just one neighborhood."
But for Minneapolis residents, knowing they're not alone is the opposite of comforting.
Business-owner Kathy Higgins Victor had an employee of her housekeeping business carjacked at gunpoint.  The thugs shot into the car three times but amazingly, missed the employee.
Higgins said, "I am unsettled by the acceptance that carjacking and attempted murder is being normalized as a new way of life in our city. Police are gone. Criminals are emboldened. City leaders are not working toward common goals."
A National Scale
If Joe Biden and Kamala Harris take the White House in January and pass their national gun control bills, what's happening in Minneapolis could be played out nationwide.
The left won't admit their ideas have led to mayhem and death.  Instead, the double down in their awful policies and stick gun owners with the tax bill.
Gun owners, get ready for the fight of your life because all indicators are that 2021 is going to be a bumpy ride.