Indianapolis, IN — Another day, another tragic story of unarmed good people being hurt or killed by bad guys with guns.  This story happened just last night in the west side of Indianapolis, Indiana.
Indianapolis Police reported say that a 40-year-old mother of four was shot and killed while she and her husband were changing a tire in the early morning hours.  Wilma Hochstetler, 40,  and her husband, Johnathan were both shot, with Wilma killed "instantly."  Johnathan was shot in the neck and jaw, though his family reports that he is expected to survive.
Indianapolis Metropolitan Police Department spokesperson Samone Burris said officers found the couple suffering from apparent gunshot wounds at about 1:30 a.m. Thursday near the 3000 block of North High School Road.
According to police, Jonathan and Wilma Hochstetler of Worthington were in Indianapolis's west side early Thursday morning after car trouble at the end of the work day had kept them in the city into the early morning hours.
A Crime Of Opportunity
According to Sam Hochstetler, Jonathan's father, the couple owns a roofing and gutter company.  Jonathan had finished a job around 7:00 pm when he saw a tire was flat on his work truck.  He sent some employees back to their office in Worthington, Indiana — an hour and a half drive — to go home for the night.  Meanwhile, he asked his wife to use the employee's truck to bring him a new tire — a three hour wait, round trip.
By the time Mrs. Hochstetler arrived — with their six-year-old son in tow — it was nearly 10:30.  But after changing the tire, Jonathan noticed something else was wrong, according to Jonathan's father.  "They fixed the tire, they're ready to leave and then the running lights of the trailer didn't work."
It kept getting later, until finally it was well after midnight.
Just as the couple was working on the trailer lights, "two men walked up to them, pulled out guns and took the couple's money and Wilma Hochstetler's cellphone" according to Sam Hochstetler.  The couple handed over everything the muggers asked for without objecting.
Killed For Fun
But then the nightmare got worse.
"Jonathan told us that (the robbers) turned around and started to walk away," Sam Hochstetler said. "All of a sudden, they just turned and shot. His wife was instantly killed. Jonathan was hit through the neck."
After bleeding on the ground for several minutes, Jonathan Hochstetler got up and dragged himself to the cab of the pickup truck.  His six-year-old son was hiding in fear, but safe.  Jonathan's cell phone was in the truck, and he used it to call the police.
Sam Hochstetler said his son was taken to the hospital and his grandson was initially taken to Child Protective Services. The child is now with family.
"He said 'I wish they didn't shoot my mommy' as soon as he got home," Sam Hochstetler said. "(But I think) he is still oblivious to what happened."
America Needs Families Like The Hochstetlers
Of course, anybody being murdered in cold blood by thugs is a tragedy.  We reported yesterday about a young couple who was intentionally rear-ended on their way to church in a ruse to get them to pull over to be carjacked and the husband murdered.  Enraging.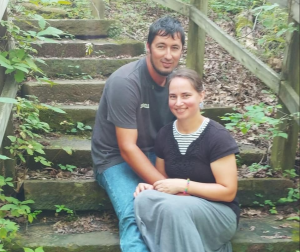 And yet, when good people like the Hochstetlers are brutally victimized, it's just the worst form of depravity.
Mrs. Hochstetler and her husband were raising four children.  They are 16, 13, 10 and the six year old boy who witnessed the murder of his own mother.
On Mrs. Hochstetler's blog, she described herself this way:
"Wilma Hochstetler resides in Indiana with her husband and three children. Wilma grew up on an Amish farm in Indiana. She and her family had a big garden, and they mowed the lawn with push movers, milked cows by hand, and gathered eggs in their chicken house. This farm also served as inspiration for her second novel, The Miracle Girl. Her first novel was Anna's Journey. Wilma is a stay-at-home mom, and she enjoys writing, crocheting, and sewing in her spare time."
The blog also reported that the family went on multiple missions trips to Honduras and sponsored impoverished children there.  They also personally sponsored a Christian school in a Honduran village.
These were good people.  America has suffered greatly from the loss of families like this, and even more so their loss when they're a rare exception.  These are the types of families that made America great.
Indianapolis Is Having A Violent BLM Summer
Meanwhile, this continues a summer of rising crime in Indianapolis.  We reported earlier in the summer how Black Lives Matter activists had gone viral for threatening drivers with guns in the middle of the streets.
Since that time, crime has continued to rise in Democrat-controlled Indianapolis.  Lifelong Democrat and former Chair of the Indiana Democratic Party Joe Hogsett doesn't have the answers any more than Bill DeBlasio, Lori Lightfoot or any of these other radical anti-gun mayors.
Indianapolis homicide rates in 2020 have blown 2019's numbers out of the water.   So far in 2020, there have been 156 homicides; 129 of those are murders.
In comparison, the Indianapolis Metropolitan Police Department reported only 106 Homicides at this same time in 2019. Of those 156 homicides, only 39 have been cleared or solved — and yet the mob screams to defund the police tasked with solving them.
Insanity.
A gun and some situational awareness could have saved this young couple from a horrible tragedy.
But the danger they were in –especially unarmed —  was made worse by the fact that their leftist left mayor has given a blank check to criminals.
Enough is enough.