We reported yesterday that the city of Louisville, Kentucky was on edge after the police had declared a state of emergency.  The city was waiting for a grand jury to rule on whether or not the three officers involved in the shooting death of Breonna Taylor would face charges for the March 2020 shooting.  Taylor's family had already reached a settlement of $12 million dollars with the city — the largest settlement in Louisville's history.
Earlier this afternoon, Kentucky Attorney General Daniel Cameron announced that after months of investigating by multiple departments, and days of deliberation, the grand jury had not charged any of the officers for the death of Breonna Taylor.
One of the officers, Brett Hankinson, will face a Wanton Endangerment charge for a spray of his bullets that went into an apartment next door to Taylor's.  To be clear, Hankinson is facing charges for shooting his weapon, but not for shooting at Breonna Taylor.
Nobody was injured by those shots, but it's still a Class D felony, and carries a penalty of one to five years in prison.  A warrant was issued for Hankinson's arrest; his bail was set at $15,000.
Meanwhile, the other two officers, Sgt. Jonathan Mattingly and Detective Myles Cosgrove, were justified in their use of force, according to Kentucky Attorney General Daniel Cameron.
Cameron said the grand jury decided homicide charges are not applicable because the investigation showed that Mattingly and Cosgrove were justified in returning deadly fire after they were fired upon by Kenneth Walker, Taylor's boyfriend.
Cameron went on to say:
"Justice is not often easy and does not fit the mold of public opinion. And it does not conform to shifting standards," Cameron said. "I know that not everyone will be satisfied with the charges we've reported today. My team set out to investigate the circumstances surrounding Ms. Taylor's death. We did it with a singular goal in mind: pursuing the truth. Kentucky deserves no less. The city of Louisville deserves no less. If we simply act on emotion or outrage, there is no justice. Mob justice is not justice."
Interestingly, Cameron pointed out that the three officers didn't know each other prior to the raid.  That is, they weren't cop buddies covering up for their partners, etc.  In reality, the three officers called into duty as extra personnel, Cameron said.
Also in their favor, the officers had no prior experience with any of the suspects involved.  They only had the information that was given to them during the briefing prior to the raid. This wasn't a prejudiced group of friends who had it out for Taylor or her boyfriend.
Cameron stated that the officers did knock and announce themselves, though Breonna Taylor's boyfriend says he didn't hear them — hence why he began shooting through his door.  Meanwhile, Cameron confirmed that a civilian who lives at the complex corroborated the officer's version, saying that they had heard the police announce themselves.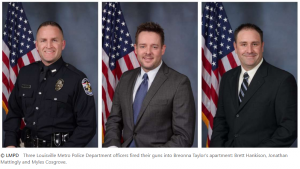 The Family's Response Will Impact The Mob
Within an hour of the announcement, Taylor's family and lawyers took to social media to express their displeasure.  Taylor's sister posted a picture of her on Instagram with the comment, "Sister, I'm so sorry."
Meanwhile, the family's Civil Rights attorney Ben Crump tweeted that Hankison should have been charged with "wanton murder."   "This is outrageous and offensive!" he said.
It's Already Started
After the news broke this afternoon, hundreds of protesters gathered in Injustice Square chanting, "No justice, no peace!"  The peace didn't last, with locals reporting that U-hauls were pulling near the downtown area and unloading men and women who were carrying bats and shields.
Who paid for the u-haul?

Who paid for the signs?

Who paid the organizers?

Who paid the protestors? https://t.co/acLlWxQ4mx

— Austin Chambers (@achambersgop) September 23, 2020
Because that's how the left protests injustice: by destroying public and private property.  Who is funding this movement?!