BOOOM! After more than a decade of effort, gun owners in Iowa have finally passed Constitutional Carry legislation through both the House and the Senate chamber, sending the bill to the desk of Republican Governor Kim Reynolds.
The Iowa Senate voted just moments ago to pass the bill by a vote of 31 to 17 — a veritable landslide!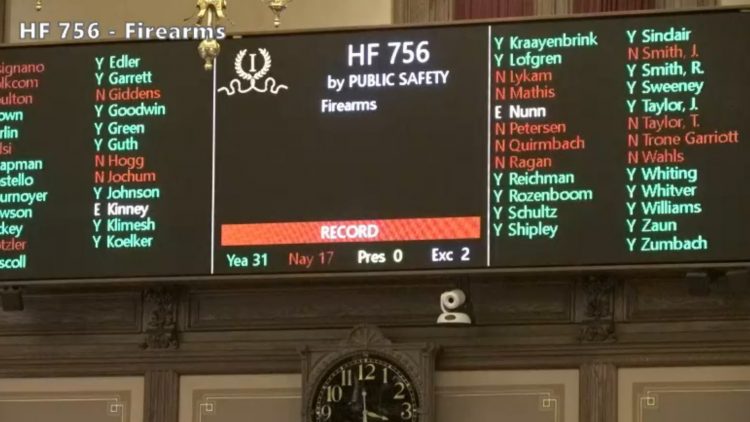 We reported last week when the Iowa House passed the bill after 11:00pm after more than four hours of discussion.  Today's discussion was more of a chat — less than an hour from introduction to the final vote count!
Grassroots Got It Done
No other group worked harder to see this legislation come into being and pass the House and Senate than Iowa Gun Owners.  The organization has reportedly mobilized tens of thousands of gun owners to call and email their legislators in recent weeks.
But even before this specific bill, Iowa Gun Owners — including all of her members and supporters — was single-handedly responsible for 'clearing the field' for this bill, removing key politicians who had opposed and blocked this legislation repeatedly in the past.
This process took several election cycles — something that has required time and money to accomplish — since the group was founded in 2009.  And just like gun owners all across the country have experienced in their states, Iowa's gun owners realized very quickly that some of the biggest opposition to advancing their gun rights came from moderate Republicans!
Thankfully, Iowa has just proved once and for all that even the most moderate Republicans will finally get the message once gun owners send enough of them home from the Capital with their tail tucked between their legs!
It's not always the fastest way to get what you want in politics, but it WORKS!
The Gun Rights Momentum Continues
All that remains for this bill is for Republican Governor Kim Reynolds to sign it into law — something gun owners might have to urge her to do just like they've had to urge their legislators to do.
But if they can get it done, Iowa will join Utah and Montana — and possibly even Tennessee — in passing this legislation in 2021!
While some Republican legislators haven't caught on yet, things have changed for gun owners after 2020.   Gun owners across the country watched in 2020 as Sheriff's offices were closed for months — right when Americans wanted their concealed carry permits more than ever.  How pathetic — American families living in fear of rioting looters couldn't get a government permission slip because government employees were working from home!
NOW is the time for every single pro-gun Republican to be pushing to pass Constitutional Carry in their state — and if yours aren't, call them up and demand to know why!