Well, that didn't take long!  We reported on Friday about a Thursday afternoon raid at the Polymer80 manufacturing plant in Dayton, Nevada.  Polymer80 manufactures 80% lowers, including their most popular item, the "Buy Build Shoot" kit, which includes the parts, tools and jigs needed to build a working firearm.  These are what the media refers to as "ghost guns" since they don't have a serial number.
That said, the kits are perfectly legal, since it's legal to manufacture your own firearm for your own personal use.
The Plot Thickens
Not long after the story went live on The Wall Street Journal, The Firearm Blog reported receiving an email from a Polymer80 customer stating that ATF agents had shown up at his house on December 10th — the same day the factory was raided.  The agents demanded he forfeit his build kits to them willingly or they would return with a warrant to search his home for them.
He provided images of his signed surrender sheet, agreeing to 'willingly' forfeit his Polymer80 kits to the ATF agents who were threatening him with legal action.
The reader stated that on the afternoon of December 10, 2020, they were visited by the ATF and were requested to surrender any Polymer80 kits. The ATF took custody of the Buy Build Shoot Kit and provided them with a receipt for the property. In the "Basis for Transfer or Seizure of Items" box, the ATF agent wrote "Polymer80, Inc. Investigation". The email to TFB stated:

They are also going after customers. Had ATF at my house approximately 1pm yesterday telling me I need to surrender my P80 or he would return to raid my house with a warrant. Enclosed is my surrender sheet for proof. If anyone purchased a "Buy, Build, Shoot" kit from them they will probably be hearing from the ATF as well.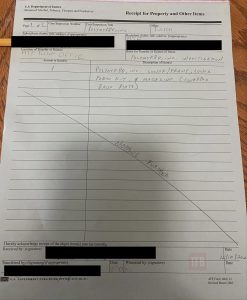 Of course, Polymer80 has made an entire business out of selling 80% kits that complied with the law. But the ATF has conveniently decided — about 40 days from the most anti-gun President in history theoretically taking office — that these kits ARE firearms, after all.
That means that Polymer80 has been illegally operating all this time — and further, hasn't paid the right amount of taxes since firearms are in a different tax bracket than firearms parts are.
What a joke!
The Firearm Blog continued:
Federal law allows for non-prohibited persons to build working firearms for personal use. A serial number is not required unless the individual decides to sell the home-built firearm at a later date. A Federal Firearms License (FFL) is required if an individual builds firearm(s) with the intent of offering them for sale. At that point, other regulations like a firearms transaction record may be required as part of federal law.
Of course, none of these restrictions apply to Joe Blow American who purchased something totally legal and followed the law in his possession of it.
Pandering To Sleepy Joe
There's a long-standing idea in the gun world that the ATF often "grandstands" right before a new president comes into office, making a big play that's in keeping with the incoming President's ideas on gun control.
In this way, they ensure continued funding, removing some of the risk that the incoming President will cut their funding as 'punishment' for enforcing the policies of the previous administration — who likely didn't share the same ideas on gun controls.
Basically, the ATF director might be afraid that if he looks soft on guns, Joe Biden will dismiss him or other top ATF staff if he takes office in January.
Still, if you have ordered any of Polymer80's Buy Build Shoot kits, it's not a bad idea to keep an eye out for a visit from your friendly neighborhood ATF agents.