Gun owners have had a rough a year in 2020.  From ammo shortages to sold out gun stores, it's been a mad rush since March.  But there are some positive signs in 2020, as well.  We reported that seven million Americans have bought their first gun this year, shattering any other year on record.  The 2A community is eager to see whether or not those folks will end up helping in the fight against gun control.
But there's more than one way that 2020 has helped out gun owners.  The latest polling data from Gallup shows that fewer Americans support the left's gun control agenda than at any time since 2016.
Only 57% want stricter gun laws, 9% less strict, and 34% want them kept as they are.  Additionally, 25% of Americans favor a handgun ban in the U.S., a near record low
According to Gallup:
In the absence of a high-profile mass shooting in the U.S. in 2020 and amid the coronavirus pandemic, civil unrest related to racial justice issues and the contentious presidential election campaign, Americans are less likely than they have been since 2016 to call for increased gun control. The latest majority (57%) in the U.S. who call for stricter laws covering the sale of firearms marks a seven-percentage-point decline since last year. At the same time, 34% of U.S. adults prefer that gun laws be kept as they are now, while 9% would like them to be less strict.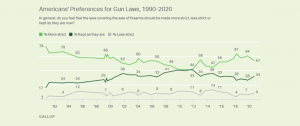 A Nation Divided — About Guns!
The far left polling outlet explained while the overall number of Americans who are in favor of gun control is falling, Democrats have not fallen out of love with gun control by a long shot.  No, the low number of Americans who support gun control is because fewer Republicans support it than ever.  Meanwhile, more Democrats than everare backing stricter gun control.
Among these groups, the largest gap in support for more stringent gun laws is for partisans. The current 22% of Republicans favoring stricter laws for gun sales is the lowest for the group over the past 20 years and represents a 14-point drop since 2019. Meanwhile, the percentages of Democrats and independents calling for more gun control are near the highest recorded by Gallup since 2000. The 63-point gap between Republicans and Democrats is the highest on record over the past two decades.
This sharp divide is new.  For most of the last 25 years, there were lots of pro-gun Democrats — not just voters but elected Democrats, too.
But the far left has radicalized the party such that there's very few pro-gun Democrats left.  At least, if this poll is to be believed.
2020 Has Pulled Back The Curtain
The left has dumped hundreds of millions of dollars into political propaganda aimed at destroying our gun laws.  From Bloomberg's handful of 'grassroots' groups to the media playing off the blood of shooting victims, it's been a non-stop onslaught against guns and gun owners.
But 2020 reminded millions of Americans that the right of self-defense still matters.  It shouldn't be thrown away.
When the chips are down — and the cops aren't coming because they've been defunded — Americans want a gun in their hand!
That's great news!  And if Joe Biden is installed as President in two months, we anticipate that even more Americans are going to realize the value of the Second Amendment than ever before.