Marquise Damarius Asoman is shown here in a file mugshot. He is accused of shooting at Trump supporters on Monday in Fort Mill, who are shown here from a Facebook photo. Credit to Greg Rickabaugh.

Charlotte, SC — The media has missed their chance to make national news of a senseless shooting that put lives in danger. But the details of the story quickly show why the story was memory-holed by the national media.
A man in Charlotte, South Carolina is facing multiple charges after police claim he shot wildly into a crowd of Trump supporters who were legally gathered on an interstate bridge.
According to police, the supporters had a permit to be on the Sutton Pass overpass that crosses Interstate 77. There were several hundred people gathered on the over pass when three men repeatedly drove under the over pass. The men weren't there in support; instead, they were "shouting derogatory remarks and yelling obscenities" at the protestors from the safety of their car.
Fort Mill Police Major Bryan Zachary's press release details what happened next:
"As the vehicle turned from Sutton Road on to the ramp to northbound I-77, the driver of the vehicle continued yelling and then extended his arm through the window, while holding what appeared to be a handgun. The victims further stated that, at that moment, they heard several shots fired, and the vehicle then proceeded northbound on the Interstate."
No one was injured by the man's shots, thankfully.
And as it happened, there was a state trooper with the South Carolina Highway Patrol nearing the area who saw the whole thing unfold.
He immediately pursued the men in the car on I-77. He lost sight of the men, but could identify the car, which was later found abandoned in the vicinity of Gold Hill Road and Deerfield Drive.
Moments later, officers saw the same suspects in another car and pulled them over. Two of the men were released without charges — since helping facilitate stupidity isn't a crime.
Police arrested the driver, 23-year-old Marquise Damarius Asomani of Charlotte. He's facing charges that include six counts of assault & battery of a high & aggravated nature and one count each of unlawful carrying of a pistol, pointing and presenting firearms at person and possession of a firearm during a violent crime.
Leftist Hero?
A bond hearing was completed, and Asomani's bond was set at a total of $75,000 on all charges.  He was later transferred into the custody of the York County Detention Center where he awaits trial.
Meanwhile, records show that Marquise Damarius Asomani is a convicted drug dealer.  A fine, upstanding leftist!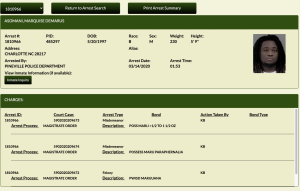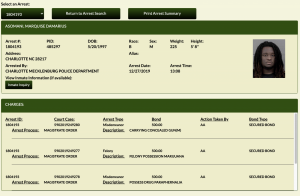 But the left is FINE with violence against political protestors, right?  Of course!  As long as it's against politicians they don't like, such as President Trump!
This story will get buried while the national media focuses on Kenosha Kyle — which appears to be a clear case of self-defense!
Outrageous.