Georgia Congressional candidate John Cowan has been caught on tape stating a position that is opposed to Donald Trump on the issue of the World Health Organization.
President Trump announced just yesterday that he has officially withdrawn the United States from the WHO. America has previously been the largest voluntary financier of the organization.
John Cowan's political opponent, Marjorie Taylor Greene, recently unveiled footage of Cowan openly saying that he wanted to "have a strong WHO."
Check out Greene's Facebook post here:
The video of John Cowan is here:
Greene went on to poke holes in John Cowan's position in another post: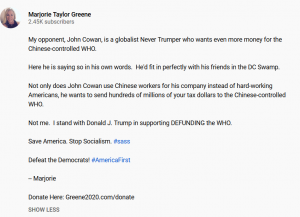 The WHO and China have been  working hand in glove since the start of this 'pandemic' — which has been politicized to such a degree that it's just one more thing Democrats are using to divide Americans and topple President Trump during the next election.
The World Health Organization — along with the CDC — are no friend to gun owners.  These globalist organizations want to ban the carrying of all firearms by citizens, ban 'assault weapons' and classify gun crime as a 'health crisis.'
Once gun violence is a 'health crisis' then the WHO and the CDC can get involved in 'curing' it, of course!
Gun owners need leadership who recognize — as President Trump obviously does — the threat the the WHO is to America.