Denver, CO — The nation watched yesterday as a standoff with a violent madman took place in a grocery store in Denver, Colorado.  Minute to minute updates kept revealed that the person responsible had killed at least 10 innocent people — seemingly at random.
That man has been identified today as 21-year-old Ahmad Al Aliwi Alissafrom Arvada, CO.
CBS Denver reports:
The suspect in the mass shooting at a grocery store in Boulder on Monday has been identified as 21-year-old Ahmad Al Aliwi Alissa from Arvada. Ten people, including one police officer, were killed at the King Soopers store at Table Mesa Drive and South Broadway.

Al-Issa was shot in the leg by a Boulder police officer and was taken into custody. He is in the hospital and officials said his condition is stable.

Al-Issa has been charged with 10 counts of murder. There is no information about a possible motive at this time.

No photograph of the suspect is available. He will be booked into the Boulder County Jail when he is released from the hospital. Officials said they expected that to happen Tuesday afternoon.

Investigators believe there are no other suspects involved in the shooting.
The CBS story included several images of a man who appears to be Ahmad Al Aliwi Alissa — the man is clearly being arrested and they said that the shooter acted alone — but that hasn't been confirmed at this time.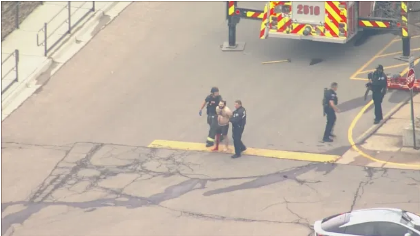 This man appears to have a leg injury, which is consistent with the injury that police reported the murderer received.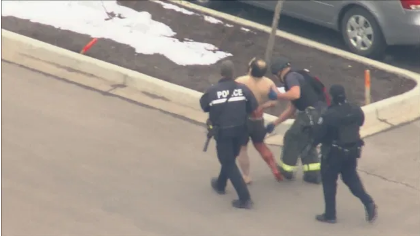 Gun Controlled Colorado
Yesterday, the leftist media was quick to talk about advancing gun control in light of this horrible event.  They didn't mention that Colorado already has passed some of the strictest gun control in the country.  Even Newsweek admitted it, saying:
Gun control advocates are calling for tighter restrictions in Colorado after Monday's mass shooting at a supermarket left 10 people dead, although laws in the state are already stricter than most of the country.
…Current laws in Colorado include universal background checks, a large capacity magazine ban and a "red flag" law that allows weapons to be temporarily seized from those deemed an extreme risk protection orders.

Colorado is currently rated a "C+" on the Annual Gun Law Scorecard from the Giffords Law Center, a group that advocates for tighter gun control…The state's passing "grade" puts it in the top 16 nationally for strict gun control measures, with only 12 states having stricter laws that have earned them higher ratings. Only two states, California and New Jersey, have received an "A" rating from the group. There were 20 states that received "F" ratings.
Of course, the anti-gun left blazed right past that fact!  And just moments ago, Dianne Feinstein said in the Senate Judiciary Committee that shootings like these are a reason to pass her recently-filed 'Assault Weapons ban.'  She also said that it's time to pass a national red flag act — completely ignoring that Colorado already has that legislation and it didn't work!
These radical anti-gun crowd are going to ignore what's staring law-abiding Americans in the face and instead focus on banning the 205 guns they don't want Americans to own anymore and strip away their right to due process!
Take Action
Before the left builds momentum on the tragedy that madman Ahmad Al Aliwi Alissa brought to Boulder, Colorado, sign this petition provided to us by the American Firearms Association, telling your legislators to TAKE A STAND for our gun rights!