Pelosi photo credit: Seth Wenig / AP
We reported last month that Speaker of the House Nancy Pelosi had instituted a fine of up to $10K dollars for House Members who skip the metal detectors that were installed in the Capitol building after January 6th.
Recently, Breitbart news reported that the Speaker had fined two Republican Congressmen $5,000 each for skipping the security checkpoint.
But now documents have emerged showing that Nancy Pelosi has apparently made this rule apply to everybody but herself!
The Hill reports:
Republicans on the House Administration Committee sent a letter to Acting Sergeant-at-Arms Timothy Blodgett on Friday requesting the fine, arguing Pelosi should have to abide by the new rule that she pushed to implement.

"Yesterday, at approximately 9:59 am, multiple members observed the Speaker of the House entering the House Chamber without completing security screening," the Republicans wrote on Friday.

"What was observed was a clear violation of House Resolution 73 and you are required by House Rules to impose this fine. Please inform us once the fine has been assessed," they added. "We look forward to a prompt response to this inquiry."
You can see their letter here: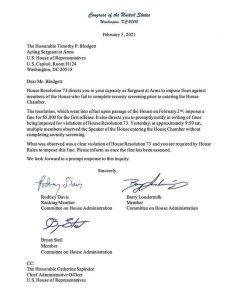 Blodgett responded by telling the members that he has not received a complaint from the Capitol Police about a violation by Pelosi.

"House Sergeant at Arms imposes the fine after receiving an unusual occurrence report from the United States Capitol Police (USCP). An unusual incident report from the Capitol Police is appended to the document sent to the Member providing notice of the fine," he wrote.

"Only the USCP can determine whether an individual has failed to complete security screening as only the USCP has sufficient training to determine compliance with USCP screening procedures. I have directed that the USCP produce and provide unusual incident reports on any individual who fails to complete security screening without exception. I have not received any unusual incident report from the USCP concerning the Speaker of the House."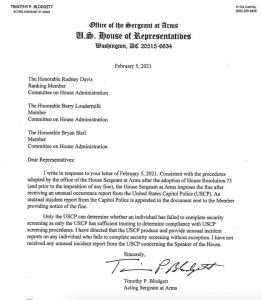 And that's how things work for the leftists elitists!  The rules apply to you — and the fines, too — but not to them or their friends!
Nancy Pelosi gets armed bodyguards, but you and your family don't need a gun to defend yourselves!  They live in gated communities with hired security firms, but you need to stop being so paranoid as to think you need to carry a gun!