Ottumwa, IA — An Iowa homeowner was faced with an awful choice late on Thursday night when an unknown assailant tried to break into his home.
The homeowner called 911 around 9:19, but officers couldn't arrive in time. Worried for his life, the man shot the alleged home invader.  Police say the intruder was taken by helicopter to a hospital but he later died of his injuries.
The Perry News reports:
A statement issued Friday morning by the Wapello County Sheriff's office said their agency received a 911 call about 9:15 p.m. by a caller who "explained that a male subject was attempting to gain entry into their residence, located between Ottumwa and Agency on 97th Avenue."

Preliminary investigation indicate the intruder "did forcibly enter the home and was shot by the homeowner inside the residence," the sheriff's statement said.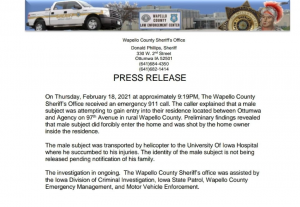 Ottumwa is a city of just under 25,000 people in a largely rural part of the state. It's certainly not the sort of place you'd expect to find homeowners who have had to prepare for this sort of scenario. But this homeowner was ready — they had a gun and knew how to use it — and willing to defend themselves!
Will Radical Representatives Pay Any Attention?
Meanwhile, in other parts of the Hawkeye state, far left Representative Bruce Hunter would like to see homeowners like this one disarmed.
Hunter has filed half a dozen different gun control bills in the Iowa House this year, including a Red Flag gun confiscation bill and a Universal Background checks bill — aka a 'gun owner database' bill.
He's also filed to repeal Iowa's "shall issue" law which states that as long as a person meets the legal requirements for a concealed carry permit, they shall be issued one.  Hunter wants to replace that wording with 'may issue' so the decision is left to the discretion of the local sheriff as to whether or not somebody should be given a permit.
Bruce Hunter has also introduced HF 119, making parents civilly liable if a child is hurt with their firearms — essentially a 'safe storage' gun lockup bill.  He's introduced HF 126, a bill banning Capitol carry, or carrying guns anywhere on the Capitol grounds.
He's introduced HF 127, a bill to ban 'multi burst trigger accessories' and wants to assess fines of up to $10,000.  He's introduced HF 128 to ban all magazines of any caliber that hold more than ten rounds!  Another bill would make it illegal to sell or buy an AR-15 — ending the right to own them with this generation!  He filed a bill to prohibit ghost guns, a bill to mandate reporting your firearm as stolen, and more.
This is in addition to every other leftist, anti-American legislation you can think of!
The Anti-Gun Crowd Always Defends The Bad Guy
If Bruce Hunter had his way, this homeowner would have been breaking the law five different ways by defending himself like he did!   And that's why these radical legislators need to be STOPPED and sent home packing by their constituents.
Get involved in your state.  Every state has their Bruce Hunter — and if yours doesn't at a state level, every American is staring down the barrel of this type of legislation at the federal level!  The time to stand up and say "HELL NO!" is right now!