Just hours ago, Joe Biden's White House issued a statement on the 3rd anniversary of the February 14, 2018 shooting at the Marjorie Stoneman Douglas High School in Parkland, FL.
The statement promised that the administration 'would not wait for the next mass shooting' before taking action.
The text of the announcement can be found here, but we've included the part that will be most alarming to America's tens of millions of law-abiding gun owners:
This Administration will not wait for the next mass shooting to heed that call. We will take action to end our epidemic of gun violence and make our schools and communities safer. Today, I am calling on Congress to enact commonsense gun law reforms, including requiring background checks on all gun sales, banning assault weapons and high-capacity magazines, and eliminating immunity for gun manufacturers who knowingly put weapons of war on our streets. We owe it to all those we've lost and to all those left behind to grieve to make a change. The time to act is now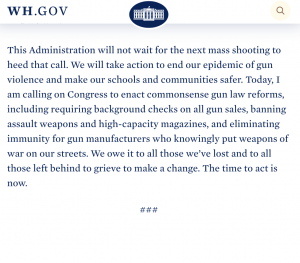 Just moments later, Nancy Pelosi's office released a similar statement, naming several specific gun control bills that passed the House but were stopped by a Republican Senate while President Trump was in office:
"Last Congress, moved by the daily epidemic of gun violence and guided by the millions of young people marching for their lives, House Democrats took bold action to save lives and end the bloodshed by passing H.R. 8, the Bipartisan Background Checks Act, and H.R. 1112, the Enhanced Background Checks Act. Now, working with the Democratic Senate and Biden-Harris Administration, we will enact these and other life-saving bills and deliver the progress that the Parkland community and the American people deserve and demand," said the House leader in a statement.
Needless to say, that Republican senate is now history. It's obvious to gun owners that the Biden Harris administration intends to make good on their promise to pass federal gun control — and lots of it.
GET INVOLVED!
Gun owners have realized in recent months that the NRA is not going to be able to stop the hammer of gun control from dropping this time — it's never been in worse shape!
It's time for every America-loving gun owner to get directly involved in pouring political pressure onto their legislator to tell them to VOTE NO on any and all federal gun control!
The American Firearms Association has provided us with this petition to help our readers reach out DIRECTLY to their legislators.  Take thirty seconds to fill it out — it will get sent via email DIRECTLY to YOUR federal legislators telling them to crush any new gun control coming from Biden's White House!