Big Tech strikes again, this time not just removing a post or tweet, but banning the President from posting on his social media accounts for the remainder of his term.
We reported yesterday that Twitter prevented users from liking or sharing the President's calls for peace at the Capital building.
But this morning, Facebook CEO Mark Zuckerberg took it upon himself to go one step further.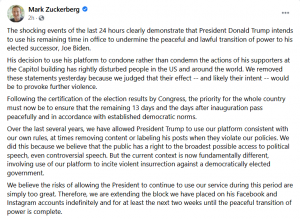 In our opinion, this post is an exercise in gaslighting, as FB never condemned any rioting protestors or silenced any of the leaders of the BLM movement this summer.
In our experience, we saw the outspoken BLM leaders posting freely while their rioting followers destroyed multiple billions of dollars in property.  That's to say nothing of the many innocent lives lost in the violent riots their followers held nationwide for months on end.
Zuckerberg's post said, "His decision to use his platform to condone rather than condemn the actions of his supporters at the Capitol building has rightly disturbed people in the U.S. and around the world."
That's interesting, because 60 million Americans are "rightly disturbed" about another topic in recent history that you won't allow a discussion on, Mr. Zuckerberg!
But there you have it, folks!  The Big Tech CEO is censoring the leader of the free world for nearly two weeks!
In what looks to us like an attempt to gaslight Americans, they are pretending that this is normal and okay — even appropriate!
It's far, far too late to fool the 80 million people who pulled the lever for President Trump!
A Time For Community
If any of our readers aren't on alternative social media platforms yet, the time is now.
The fight for our gun rights is only just warming up, and gun owners need to be able to communicate freely about the actions of our elected officials.
These Big Tech giants have made it clear that the conservative right will not be afforded free speech on their platforms.
It remains to be seen if we'll be 'allowed' the right of free speech at all under a Biden-Harris administration.