Kenosha, WI — Kyle Rittenhouse will stand trial for six different counts stemming from the shooting that took place in Kenosha, Wisconsin on August 25th, 2020.
A Wisconsin Judge has ruled on Thursday that Rittenhouse will face all six charges.  This after Rittenhouse's primary defense attorney, Mark Richards, had petitioned to have two of the charges dropped against the 17-year-old.
Richardson had argued that a misdemeanor count of possession of a dangerous weapon by a person under 18 isn't supported by the law.  Additionally, Richards hoped to dismiss a felony count against Rittenhouse for recklessly endangering the public's safety by using a dangerous weapon.
The judge denied Richardson's petition, ruling that the boy "will stand trial on all six counts related to the shooting deaths of two men and wounding of a third."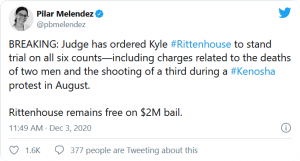 Rittenhouse is facing charges of first-degree intentional homicide, first-degree reckless homicide, and attempted first-degree intentional homicide.
The charges stem from the August 25th deaths of Anthony Huber and Joseph Rosenbaum in Kenosha, Wisconsin.  Rittenhouse allegedly shot the three men during peaceful protests that had rapidly devolved into violent and destructive riots in the city streets.
As the riot raged on the city streets around him, Rittenhouse allegedly shot the three men, two of whom later died.  The third survived, but won't be winning any arm wrestling contests any time soon.
Was It Self Defense?
There is no question that Rittenhouse shot the three men.  Gun owners have been able to see video footage from half a dozen cameras that night.  The only question is whether or not Rittenhouse acted in self-defense or if he is a cold-blooded killer.
According to Rittenhouse's lawyers, it was a clear case of self-defense. One lawyer on Rittenhouse's defense team, John Pierce, told Breitbart News:
The rioters got enraged by that. Kyle actually attempted to retreat. He was chased down by attackers that were repeatedly stating that he should be killed. They came at him lightning-fast and attempted to begin striking him and wrestling with this rifle with an intent to kill. He had no choice but to fire his weapon and protect himself.
The Left Hates Rittenhouse
Facebook has made no bones about it: you post in support of Kyle Rittenhouse and you'll face the wrath of their censors.
The leftist media isn't waiting for the trial — they've already declared him guilty and will punish anybody who dares to speak out for due process or the rule of law.
God forbid the boy be considered 'innocent until proven guilty.'