Congresswoman-elect Marjorie Taylor Greene (R-Ga.), is arguably the rising star of the Republican party.   The congresswoman-elect won her recent election by a staggering 79% — clear proof that her 14th Congressional District likes what she has to say.  She makes no apologies for being pro-Trump, pro-gun, and pro-America.
We reported when she took a shot at Speaker of the House Nancy Pelosi at her victory party, saying, "We're going to kick that b*tch out of Congress!"
But not everybody likes Greene's 'no holds barred' attacks on the left.  Texas Republican Congressman Dan Crenshaw took to twitter last Friday to blast Greene, telling her that she is a member of Congress and  to "start acting like one."
'Loser Mindset'
Greene took to Twitter after Crenshaw posted that Republicans needed to accept that Trump might have lost the election fairly.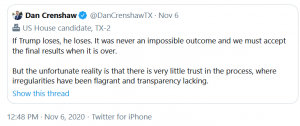 "If Trump loses, he loses.  It was never an impossible outcome and we must accept the final results when it is over."
That line didn't sit well with Greene — and given Rep. Crenshaw's previous support of leftist gun control bills like Red Flag gun confiscation — him going soft in supporting Trump and taking the middle road wasn't a shock.  So Greene called Crenshaw out on it.
The time to STAND UP for @realDonaldTrump is RIGHT NOW!

Republicans can't back down.

This loser mindset is how the Democrats win.

President Trump has fought for us, we have to fight for him.

We won't forget. Trust me. https://t.co/rN83otNxZd

— Marjorie Taylor Greene 🇺🇸 (@mtgreenee) November 6, 2020
Crenshaw, always one to circle wagons with his moderate friends, tried to shame Marjorie Greene into backing down.
Did you even read past the first sentence? Or are you just purposely lying so you can talk tough? No one said give up. I literally said investigate every irregularity and use the courts. You're a member of Congress now, Marjorie. Start acting like one. https://t.co/47a7Gqq4lH

— Dan Crenshaw (@DanCrenshawTX) November 6, 2020
There's Nobody A Moderate HATES More Than Somebody With A Spine
The left will circle the wagons around any leftist, no matter how awful their record or what terribly racist policies they've enacted or racist things they've said.  Just look at Joe Biden!
But the right will nitpick about the rules and shame anybody who tries to take a bold stand for being 'too radical' or 'not willing to be a team player.'  And the comments on Rep. Crenshaw's post bore that out, with dozens of leftists praising him — and many soft-bellied, Republicans calling for unity in the Republican party.
But some commenters realized that Dan Crenshaw was attacking Greene because she was saying and doing what he should have been saying and doing.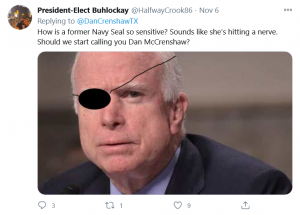 Crenshaw thought he was giving spitfire Marjorie Greene a public reprimand, but in reality, he was just showing his true colors: yellow.