Chicago, IL — Mayor Lori Lightfoot has been in charge while the Windy City has gone through one of the worst years on record for senseless violence and mayhem.  The staunch Democrat continues to blame Indiana or lax gun control laws in other places.  She can't admit that the gun control in her own city is a complete, total, abysmal and embarrassing failure.
Wednesday, October 7th, saw another 11 people shot, two of whom later died. The Chicago Sun times reported that the first person killed was a 30-year-old man who was shot in Grand Crossing in the 1400 block of East 67th Place.  He was transported to a hospital where he later died.
The second fatality occurred around 9:40 p.m. as a man, Jason Garcia, walked down "the 3700 block of East 104th Street." Garcia was shot multiple times and pronounced dead at the scene.
This after a bloody, violent year to date.  The  Chicago Tribune  recently reported that 2020 has seen just over 3,200 people shot in Chicago between January 1, 2020, through October 5, 2020.  Only 2016 had more shootings by this time.
Of the 3,204 who have been shot so far in 2020, nearly 600 have died of their wounds.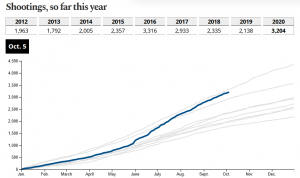 This is the new normal under Democrat gun control policies.  The elite leftists can't protect people and don't even try!  They just leave their law-abiding citizens defenseless and are shocked when a large portion of their tax base moves out of town for safer pastures.
Gun owners aren't surprised.  Gun control does this everywhere!