Lin Wood, the pro-bono attorney for 17-year-old Kyle Rittenhouse tweeted on Wednesday morning,  threatening to sue Joe Biden for 'defamation' of his client.  The tweets came after Democrat candidate Joe Biden's campaign tweeted a video calling Rittenhouse a "white supremacist."

Of course, this is a baseless accusations, as the there has been no evidence that Kyle's actions that night in Kenosha were anything more than self-defense.  Despite video evidence that appears to exonerate Rittenhouse, the teen is still facing murder charges for his actions in August.

There is no evidence that Rittenhouse is a white supremacist. He currently faces murder charges in Kenosha, Wisconsin, for shooting three rioters last month.  Two of the rioters died, the other famously lost 90% of his bicep.

But during the debate on Tuesday, Biden tried to pretend that the violence and destruction happening in America's cities is the result of white supremacists.  He even reiterated the tired old trope that "Antifa is an idea!"  Biden tried to pretend that not only were 'white supremacists' the cause of the destruction, but that Trump was okay with white supremacists doing so.

Laughable.

President Trump said that he would denounce white supremacists, but Biden's team glossed right over that.  The next day, Biden's campaign put out a tweet showing a picture of Kyle Rittenhouse holding the AR-15 that saved his life while it ran voice over claiming that white supremacists were committing violent crimes.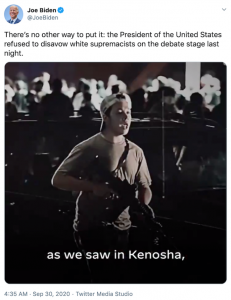 Attorney Lin Wood — who became a household name after helping Nick Sandman clean the floor with CNN and the Washington Post after they falsely portrayed him as a white supremacist back in 2019 was quick to respond.

He tweeted right away Wednesday morning:

Attorney John Pierce, who is also representing Rittenhouse, told Breitbart News Sunday: "Kyle is not a racist or a white supremacist. He is a brave, patriotic, compassionate law-abiding American who loves his country and his community."
The Left Thinks They're Above The Law
Joe Biden's campaign handlers think that nobody will hold them to account.  They think they can say whatever they want and America will just cheer and wave.  That's because they live in a leftist bubble — a place where they've silenced or banned any dissenting voices.

But there are tens of millions of Americans who aren't going to let them live in their bubble any longer.  Tens of millions of Americans who love their country, love their guns, love their safe communities.  They don't feel the need to burn this country down to start over to build some Marxist, imaginary paradise.