Denver, CO  — Denver police have reported that a man was shot and killed Saturday during a "Patriot Rally" after members of the group were antagonized by members of a "BLM-Antifa Soup Drive."
The  BLM- Antifa mob decided to hold their competing event at the same time as an already publicized "Patriot Rally." Conflict erupted almost immediately.
Several people in the crowd were live streaming the event as the Patriot Rally attendees faced interference from the Antifa and BLM protestors who arrived on the scene.
The Denver Post initially reported that the right-wing protester allegedly sprayed mace at a Black Lives Matter supporter, who retaliated by fatally shooting him with a handgun.  Many people were watching on live stream as police moved in just seconds after the shooting and arrested two men.
The Post reported:

Initial reports said that the shooter was a protestor for the BLM-Antifa rally, but later reports claimed he was hired security for the local NBC affiliate station.
Check out this video footage:
"DENVER: A protester shoots another protester" — video via https://t.co/hqYB7H4RpK who got it from somewhere else. pic.twitter.com/zftlLR6M8F

— Memelord (@dailydigger19) October 10, 2020
Here are still photos of the event: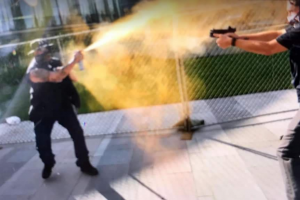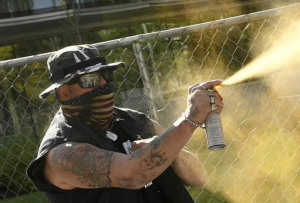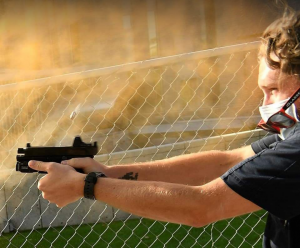 What Lead Up To This?
Here is video footage of what transpired immediately before the shooting:
https://twitter.com/i/status/1315087522414854147
Soon after, the Antifa-BLM group began to harass the cops who were trying to control the crime scene:
Antifa militants are now harassing police in Denver who are trying to control the situation where a man was just shot. pic.twitter.com/0fPRJ3cXyF

— Ian Miles Cheong (@stillgray) October 10, 2020
This is the left's America.  What's the name of the shooter?  Who was his victim?  We knew about Kyle Rittenhouse within an hour.  His life, childhood photos, his divorced parents, where he went to school, all of it.
But when it's a likely Antifa protestor killing a pro-America, pro-cop protestor, crickets from the national media.