Image Source: Twitter video screenshot
Louisville, KY — The left hasn't stopped their shock troops from terrorizing American cities all summer.  But now leftist politicians are openly joining the violent, destructive mobs as they riot.
Local news in Louisville is reporting that House Representative Attica Scott was arrested and has been charged with first-degree rioting, failure to disperse and unlawful assembly.
News reports indicate that Scott was arrested near the First Unitarian Church.  Earlier in the evening, the church had posted to their Twitter account, offering protestors to congregate on their property once the city's curfew went into effect.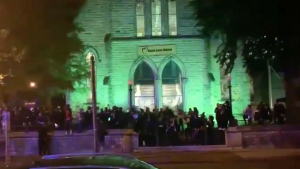 Not long after, reports came of broken windows and other minor property damage.   Within the hour, police made several arrests in the area.
Lmpd have arrested Rep. Attica Scott, author of Breonna's law pic.twitter.com/Gla14x8Es6

— Ryan Van Velzer (@RyanVanVelzer) September 25, 2020
Louisville Metro Police Department has also accused Scott of associating with a group responsible for setting a library on fire and damaging other properties.  Somebody in her group allegedly smashed in a library window and threw a lit road flare inside the building.  The fire was put out before the building suffered major damage.
Both Scott and her daughter were arrested, along with 22 other protestors over the course of the night.
Representative Scott made headlines in August after filing a bill — nicknamed "Breonna's Law" — that would ban no-knock raids in the state of Kentucky.  The city of Louisville has already banned them within city limits.  Scott's bill is a close imitation of the "Justice For Breonna Taylor" bill that Senator Rand Paul filed back in June to ban no-knock raids at a federal level.
You Need To Obey They Law, They Can Riot And Burn
While we're no fan of 'no-knock raids' and think they should go away, that's an issue of police training policy.  That's something where you go door to door in your city and get petition signatures to get the measure on a ballet and you pass a city ordinance banning no-knock raids.
At least, that's how gun owners have been told THEY have to change the law: due process, using the legislative system.
But not this Democrat legislator!  She can march with rioting protestors — who just the night before shot and injured two Louisville police officers!
When an elected official — literally somebody who is a part of the legislative process — encourages and promotes this sort of lawlessness, there ought to be consequences.
Let's hope the prosecuting attorney in Louisville isn't another Soros-funded leftist who drops the charges against this rogue House Rep.