Photo Courtesy of Elliott Family
Colorado Springs, CO — A government school teacher in Colorado Springs, CO has suspended a 12-year-old black boy for five days after she saw him "waving" a toy gun during their virtual school call on August 27th.
According to his parents, Isaiah Elliott is a seventh grader at Grand Mountain School in Colorado Springs. He was logged into an online art class via his school's distance learning program when the teacher saw something that made her lose her mind.  What could cause an adult woman to be so disconcerted?
A toy in their young son's hand.
It was only the third day of school when Isaiah got bored during an online art class and picked up a neon green toy gun with an orange tip.  According to his mother, he "moved it from one side of the screen to the other."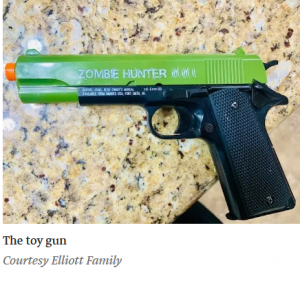 But to the government school teacher, this was enough to call it 'waving.' That's what the email said when the class ended and Mrs. Elliott received an email from Isaiah's art teacher.
The teacher stated that Isaiah had been "extremely distracted" during the lesson and there had been "a very serious issue with waving around a toy gun."
Isaiah's mother said the school district "had been made well aware" of her son's ADHD diagnosis and IEP (Individualized Education Program) to accommodate his ADHD. This was only the third day of school, after all!
Collective Stupidity
But if that level of rule-following stupidity isn't enough, a few moments after the email arrived, Isaiah's Vice Principal, Keri Lindaman, called. Ms. Lindaman was informing Mrs. Elliott that she had called the school resource officers from the El Paso County Sheriff's Office and they would be conducting a "health and wellness check" on Isaiah at the family's home.
Convinced that sane people were running her child's school, Mrs. Elliott explained that the gun was just a toy. But sanity is in short supply for government employees when it comes to guns — even toys.
According to Mrs. Elliott, "She [Lindaman] admitted that she knew it was a toy but Isaiah's safety was of the utmost importance."
Safety. From a toy gun. That his parents had allowed him to have.  That all adults knew and admitted was a toy.
The Anti-Gun Leftists Called….The Police
In a move whose irony is not lost on gun owners, the Vice Principal had the school resource officers send the police to check on the young boy.
"An hour and a half after receiving [the teacher's] email, I found out that the police were on their way," Mrs. Elliott said.  Further, her husband had been home but had left to run errands.
She called her husband, Curtis Elliott, and told him to "turn around and go straight home."
"I had to logically think out, 'How do I protect my son, what do I have him do [when] playing with a toy in the privacy of your own home is a threat?'" Elliott said.
Are They Recording All Of Our Kids' Classes?
According to the original news story, the school isn't even going to release the footage of the zoom class!
When the El Paso County Sheriff's officers arrived at the family home, they showed her husband footage from the incident that they had seen in the vice principal's office and which was recorded on their body cameras.

Elliott said that she had not seen the video because the school has so far refused to release it to her — but told BFNews that she was unaware that the school had been recording the virtual classes without informing parents, and that she never would have consented if she had known.

However, she said that both her husband and Lindaman told her that the only thing Isaiah did was pick up the gun from the couch and move it from one side of the screen to the other.
So Isaiah's school followed up on their insane decision to send the police by giving the boy a five day suspension.  The Elliott family gave copies of the suspension to the media, showing how the note said the boy was guilty of "behavior on or off school property which is detrimental to the welfare, safety, or morals of other pupils or school personnel."
"Isaiah displayed and waved a firearm facsimile during a virtual classroom on Aug. 27, 2020," the document said.
These People Think They Own Our Kids
It's become more obvious than ever that the left plans to win the war on gun by winning the minds of our kids, first.  If they can emasculate every boy and turn every girl into a Shannon Watts, they won't have to contend against anybody fighting FOR gun rights because nobody will object.  They'll have made all of our kids into leftists.
After all, they get our kids 15,000 hours before they graduate high school.  The average parent doesn't get anywhere close to that many waking hours with their kids.
Homeschooling Is The Future
Millions of parents are homeschooling this year out of necessity, but stories like this drive home the point that it's something America-loving parents should consider doing long term — even at great financial or logistical cost.
Because even once the Corona Scare has been put to rest, the indoctrination of our kids will carry on, but this time we won't be able to hear what they're saying.