Nashville, TN –Police in Nashville have called a shooting on July 1st a justifiable homicide and are not intending to press charges against a homeowner who shot and killed a burglar in his house.
Police said that a call came in around 5:30 in the morning from a home on Radnor Street off Nolansville Pike.  The caller, 72-year-old Henry Schuster who said that there had been a shooting in his duplex home.
When police arrived, they learned that the man had gone out for an early breakfast but upon his return, found one of his kitchen screen windows lying on the kitchen floor.
Alarmed, he drew his pistol and began to clear his house room by room.
That's when he opened the bathroom door to see 27-year-old Taylor Lowery. Schuster said that Lowery lunged at him and tried to take his gun away, so he shot him.
Schuster immediately ran outside and called 911, unsure if Lowery had been alone in the burglary.  When paramedics arrived, they transported Lower to Vanderbilt University Medical Center, where he later died.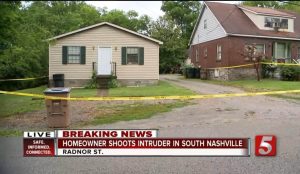 Meanwhile, Schuster's neighbors were shocked to hear about the burglary and subsequent shooting.  The neighbor who shared his duplex, Ron Honeycutt, was happy to hear that this story has a relatively happy ending –at least for his friend.
Honeycutt said, "Just last week my neighbor told me that his glove box had been torn out from the car."  Going forward, both Schuster and Honeycutt plan on taking more precautions.
Another neighbor, Adam Troy, said the same.  "This is a changing Nashville neighborhood for sure."
Every Neighborhood Can Be A Bad Neighborhood
Carry every single day — but most of you likely already are.  If you've never had to give much thought to home security, now is the time to be looking into your options.
Criminals know that the police are walking a razor wire between getting defunded and being blamed for not stopping violent crime.  Crime is up across the country, and especially in big cities.  Be aware and do what you can to protect yourself and your property.