Given how little the anti-gun left understands about guns, when we heard this latest bit of news, we had to stop and wonder.   Did they think RECOIL magazine was….a gun….MAGAZINE?  We wouldn't put it past them.
RECOIL magazine posted on their blog recently to tell readers that Kroger had all but booted them off the shelf, lately!
Krogers's marketing team had recently informed RECOIL magazine that they were not going to display and sell RECOIL magazine on store shelves unless they removed certain images from their cover.
According to RECOIL, this is what Kroger didn't want displayed in their stores anymore: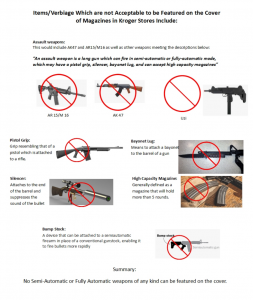 Recoil magazine thought that was a crock of bull, so they decided not to go along with it — even though it must a dramatic hit to their bottom line.
In fact, RECOIL had this clap back that we just loved:
We think we put out some of the most kick-ass content in the gun world, so having an Arugula pusher look over our shoulders while we write and design it, didn't exactly sit well. So when faced with the choice of bowing to the corporate overlords or being left off the shelves, our answer was a full-throated 'fuck you'. We'd rather take a hit to our bottom line than bend the knee.
The Censorship Is Really Taking Off
This isn't the first or even the tenth time we've written about big corporations censoring the Second Amendment.  In fact, Big Tech seems to think that they're the gate-keepers of all information –and thus get to decide what information makes it in front of America's citizens.
We freaking hate this stuff and while we haven't ever shared a business and we're getting absolutely nothing for this, we're gonna tell you that RECOIL magazine is doing a signup promotional sale price to try to recoup their losses from Kroger's censorship.   Their promo price is here…go on and check it out if you're so inclined.