GunBroker.com is a well-known and trusted name in online gun purchases.  Based in Atlanta, Georgia, the online gun auction site has hosted several million transactions since it went online in 1999.  It's become the largest online sport and hunting auction site in the world.
But last week, GunBroker's help desk reported bad news for Google and Apple users who use their GunBroker app:  they could no longer bid or purchase guns with the app.
Further, if you didn't already have the app downloaded, it was too late–the app was removed from both platforms earlier today.
Check out the help desk information here: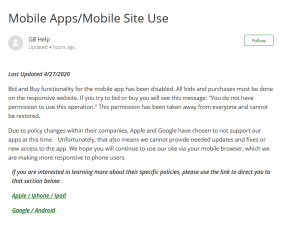 "Due to policy changes within their companies, Apple and Google have chosen to not support our apps at this time."
They gave more details on the page.  When you tried to download either app, both platforms said that the app violated their policies.
Apple said: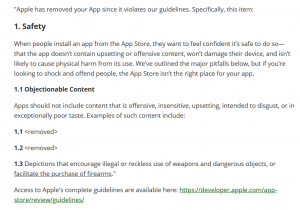 Google gave even less detail:

GunBroker consistently ranks in the top 400 websites in the world.  They have over 4 million views a month, with more than 500,000 listings running at any given moment.  This isn't some mom-and-pop gun store's Facebook page.
Our Team Is The Only Team Playing By Our Rules
Big Tech is heavily populated with committed leftists–and they have hated the Second Amendment for years.  These stifling practices are nothing new, though shutting down an account as big as GunBroker's is still surprising.
And yes, we know that both Apple and Google are private companies and can carry or not carry a product as they choose.  But let's not forget that the radical, socialist left doesn't give our team the same courtesy.
No, we give them the free market option:  the freedom to do as they choose with their own company.  But once they're in charge, let's not kid our selves: they'll silence every voice of opposition to their radical policies.