Virginia Governor Ralph Northam has issued a proclamation limiting gatherings to ten people or less.  He's not alone, as California, Texas, Nebraska, and other states have done the same thing.
But Northam can't help but be a tyrant now that he's gotten a taste for it.  So rather than allow these people to self regulate like the other governors have, Northam escalated things a notch.  He authorized police to arrest any members of the public who are gathering in groups of ten or more!
Northam's order is available in full here but here are the salient points: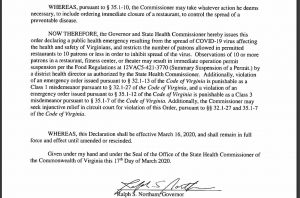 At the press conference, Northam acted like it was normal and necessary to have militarized his order:
"I hope that everyone will have the common sense to stay home tonight and in the days ahead.  This order will ensure that state and local officials have the tools they need to keep people safe."
Meanwhile, let's compare and contrast two states for a minute.
Virginia has 152 confirmed cases of Covid-19 right now, in a population of 8.5 million.   California has 1,315 confirmed cases with 24 deaths already—in a population of 40 million people!
But even radical leftist Gavin Newsom didn't think he had to threaten his citizens to keep them in line.  Instead, he's openly said that he's not using the police but is banking on 'social pressure' to keep things in line.
But in Virginia, Ralph Northam knows there is no love lost between him and nearly every gun owner in the state.  Maybe he's worried that if he doesn't keep them in line, he'll lose even more political face.  Er…political blackface, that is.  Just like a school yard bully, Northam has come out pounding his chest.